3x Jordan McCoy
1x Brie Larson
1x Megan Fox
But they're all pretty much the same, so you can use whatever header/banner & colours you want (must still credit, of corse).
For more profile banners look
here
!
If you're feeling nice you can upload the banners to you own server, but you dont have to...
Jordan McCoy preview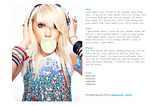 If you want matching FOBs and/or icons let me know :]
[
HERE
] @
whatever_stuff
[
join
]
This post will remain public for a few days, after that you will have to
join
to see the entry.
Profile codes!